HVAC Randolph NJ
Premium Products, Superior Services, Seamless Support
To keep your home heating and cooling system operating at its peak efficiency, functionality, and performance, you must engage the service of a reliable HVAC contractor Randolph, NJ. Not to worry though, you will find that with EZ Flow Plumbing. We are in business because of you, and we will go beyond the call of duty to meet your needs, exceed your expectations, and ensure you are comfortable in your home the year-round.
Ensuring Your Peace of Mind with Premium & Reliable HVAC Randolph NJ Solutions
When you call us for HVAC Randolph NJ services, you can expect a prompt visit to your home in a quest to resolve the problem immediately. What's more fantastic? We have state-of-the-art equipment, tools, professional expertise, experience, and license to perform any HVAC related work.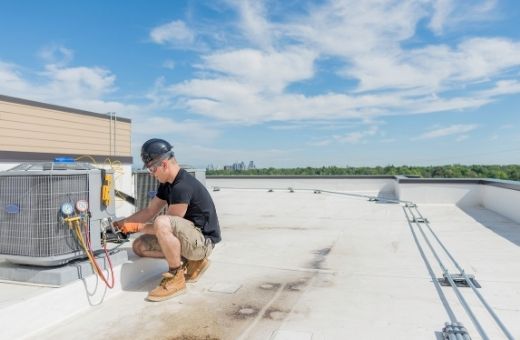 Our HVAC Randolph NJ, services include but not limited to the following:
Randolph HVAC Installation
HVAC System Tune-ups
HVAC System Maintenance
Air Duct Cleaning
HVAC Repairs
24-Hour Emergency HVAC Services
Residential Refrigeration
Our services are available 24-hours, so your project will be completed without delay. Count on us, and we will never let you down! Call your emergency HVAC contractor Randolph NJ at 973-337-1200 today!
HVAC Services Randolph NJ: Experience the EZ Flow Advantage
We understand how critical an HVAC Randolph, NJ system can be to your home, so we take your service request seriously. EZ Flow didn't start today; we built our reputation from the ground up. Our team approaches all jobs with competence, cleanliness, courtesy, and character. When you hire us, you are guaranteed 100% customer satisfaction!
Integrity
At EZ Flow, we are forthright, transparent, and truthful to clients, employees, and vendors. With our integrity intact, we keep to all promises.
Excellence
We strive for excellence and perfection in all we do. Our team designs, installs, repairs, and service various types of HVAC systems in strict accordance with the best industry practices.
Reputation & Protection
We maintain a safe, clean, reputable, and respectable place of business that radiantly reflects the superior standards of the EZ Flow Plumbing & Heating brand.
Unmatched Teamwork
We charge our technicians to always be at their best and support them to strengthen the business and build successful, lasting relationships.
True Service
We maintain the highest level of customer satisfaction to facilitate repeat business and long-term collaborations with our clients.
Privacy & Respect
We show the utmost respect for the sanctity of your home and privacy. Not forgetting that we treat each team member, customers, and other industry professionals with respect, too.
Professional HVAC contractor Randolph NJ
Like any core mechanical service, installing, maintaining, and repairing home heating or air conditioning systems is no piece of cake. Each of these sophisticated systems necessitates an expert team of highly experienced specialists to get the equipment into place correctly and have it running as it should. As a result, relying on an amateur is a disaster waiting to happen!
Why not count on our comprehensive and customer-centric service to ensure that nothing goes wrong with your system, and you also get immense value for your money. Whatever your HVAC needs, be it Randolph HVAC installation, system tune-up, HVAC inspection, and maintenance, or HVAC repair Randolph NJ, we will come to your aid.
Contact our knowledgeable technicians to find out how best we can be of assistance to you and your household. We are also available for 24-hour emergency services, call us now at 973-337-1200!
Contact Our Reliable HVAC Experts Today at (973) 337-1200!
At EZ Flow Plumbing & Heating, we care about our customers and want them to maintain their safety and regain the comfort of their homes. We are HVAC services Randolph NJ, experts; we aim to give you complete peace of mind through our impressive professionalism and problem-solving capability.
We also ensure that our technicians arrive early to scheduled appointments and are always pumped up to help you install, maintain, or restore your HVAC system in one visit. Do you need emergency HVAC repair Randolph NJ, in the evening or on the weekend? You've found your right partner! We don't charge for overtime.
We Are Available 24-Hours A Day, 7 Days A Week, 365 Days A Year!
HVAC services Randolph NJ can be delicate and must be done with precision. We stand behind every work we deliver by offering you a 100% satisfaction guarantee. Our trained and certified HVAC specialists are clean, friendly, drug-free, polite, and highly experienced. Making your satisfaction our topmost focus means that we sincerely respect your time, offer honest upfront prices, and keep your space clean.
You deserve the best residential HVAC Randolph NJ, system! With EZ Flow Plumbing & Heating by your side, you can rest assured that your HVAC system issues would be a thing of the past. Call our team today at (973) 337-1200 to schedule an appointment or discuss your request.