Air Conditioning Repair Clifton NJ
AC Repair Service Done with Purity, Precision, & Perfection!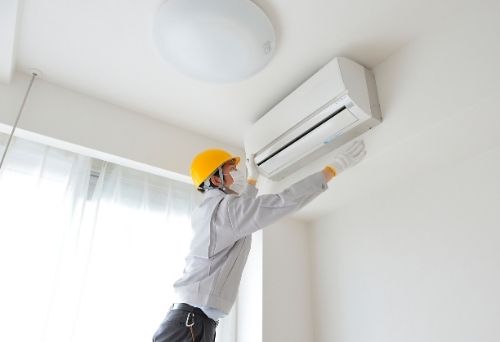 There is nothing compared to the feeling of closing your windows and living comfortably in your home, enjoying a flawless indoor air quality, staying healthy, and keeping your home safe and secure.
Air conditioners are one of the marvels of improved modern living. These sophisticated machines are highly essential for the effective daily running of a home. Wondering why they are so important? Well, they help us keep cool in intense heat and keep us safe from insane humidity.
When they work, we seamlessly enjoy a cool breeze while forgetting the air conditioning appliance which produced it. As a result, we often ignore our AC components to suffer until it's late, and they are already damaged.
We will pull you out of the mess, provide you a full air conditioning service Clifton NJ, and put a smile on your face again. Call our Air Conditioning Repair Clifton NJ experts now at (973) 337-1200 to schedule an appointment. Our team will answer your call 24/7 and also available for a same-day appointment.
You Don't Have to Live with a Damaged Air Conditioner
Air Conditioning Clifton NJ, aids better quality sleep, protect your furniture, and prevents your electronic appliances from overheating. It also keeps insects and parasites from your home, reduces the risk of dehydration, and ensure your household is free of noise. Significantly, the failure of an air conditioning system can make life a living hell!
When your AC system breaks down, and you need an air conditioning repair Clifton NJ, EZ Flow Plumbing will be your saving grace! Our qualified technicians are highly trained, experienced, fully licensed, and incredibly updated on the latest developments in the dynamic plumbing world.
24-Hour Emergency & High-Efficiency Air Conditioning Repair Clifton NJ
Is your air conditioning system making strange noises or your AC unit is blowing out warm air? Keep calm, EZ Flow Plumbing has got this covered! Many things can go visibly wrong with your air supply system, which often arises from several underlying causes. If you notice any weird sign with your appliance, it might be due for maintenance or repair.
Like any typical machine, air conditioners are bound to develop issues after prolonged use, ranging from minor to more significant problems. With an average lifespan of 15 – 20 years, a regular AC will require routine maintenance and repair after around 10-12 years.
Common air conditioning problems include but not limited to the following:
Sensor Issues
Dirty Filters
Faulty Thermostat
Dirty Condenser Coils
Wiring Problems
Weak Motor
Inadequate Maintenance
Refrigerant Leaks
Electric Control Failure
Inadequate Power
Leaky, Disconnected, or Clogged Drainage
An air conditioning system could produce insufficient air, blowing hot air, or not even produce any air. Don't waste time further, if it's time for an Air Conditioning Repair Clifton NJ, count on the guarantee-backed professional work of EZ Flow Plumbing!
The Undisputed King of Clifton AC Repair: 100% Fast & Reliable Air Conditioning Repair Clifton NJ
Most homeowners become worried and frustrated when their air conditioning no longer keeps them cool, refreshed, and comfortable, especially in hot summer weather. When the signs of a faulty AC begin to emerge, you need to call in the professionals quickly!
This is why the Air Conditioning Repair Clifton NJ company you hire matters. EZ Flow Plumbing is the leader when it comes to air conditioning maintenance Clifton with a proven track record that ensures your peace of mind. Our reputation is unmatched; check why you should work with us below:
We have been servicing Clifton local homeowners for over 20 years
Solid 100% guarantees on every air conditioning repair Clifton NJ
Over 100 outstanding online reviews posted on independent third party websites, including Google, Yelp, and Angie's List
Highly-trained, background-checked, fully-equipped, and drug-tested technicians to ensure quality and safety
Quick response, punctual technicians, and amazing customer experience
Upfront, competitive, and straightforward pricing with no hidden costs
Exceptional workmanship on air conditioning repair and maintenance services
For the most reliable, trustworthy, and affordable air conditioning repair Clifton NJ, choosing EZ Flow Plumbing is the guaranteed, stress-free way to get the comprehensive solution you seek for your ultimate home comfort and protection. Don't be deceived by amateurs; you deserve the best! Reach out to our expert team today at (973) 337-1200!
For Expert Air Conditioning Repair Clifton NJ, Call (973) 337-1200 Today!
For a high-efficiency, fully-functional, energy-saving, and long-lasting Air Conditioning Repair Clifton NJ, we are the most reliable AC specialists in New Jersey. The diligent and super-friendly team at EZ Flow Plumbing will go the extra mile to ensure that your project is done perfectly at a budget-friendly and unbeatable price!
EZ Flow Plumbing focuses on providing premium quality Air Conditioning Repair Clifton NJ and creating an excellent customer service experience that lasts a lifetime. We achieve our goals by walking you through the simple process of your repair work and ensuring that everything is back to its original form.
We are proud of the integrity we have built over the years; our trustworthy technicians will never suggest work or components you do not need. What's more interesting? We back every Air Conditioning Repair Clifton NJ, with a 100% satisfaction guarantee!
Give us a call today to request for an Air Conditioning Repair Clifton NJ, or request a 24-Hour Emergency air conditioning service, Clifton. Our local team is ready to help you immediately when you call (973) 337-1200!